Dr. Jeremy Meadows, D.C. - Chiropractor, Clinical Director, & Founder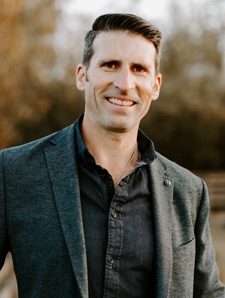 Dr. Jeremy Meadows holds a Doctorate of Chiropractic from Western States Chiropractic College in Portland, OR. It was here that he met his wife and partner in practice, Dr. Leah Meadows. Dr. Meadows completed his undergraduate degree in Human Biology from Regents College.
He completed his internship at the Tigard Chiropractic Clinic in Tigard, Oregon with Dr. Thomas Erdman and Dr. Terrance Erdman who have a combined clinical experience of over 40 years and have helped PGA golfer, Peter Jacobsen successfully compete for years on the PGA tour.
On a Personal Note
Dr. Jeremy Meadows had always been an athlete himself and had participated in college football. It was the help that his family chiropractic gave him during junior high school sports that motivated him toward being a chiropractor. Due to the active lifestyle that the Pacific Northwest provides, Dr. Jeremy Meadows decided to open his private practice in Kirkland, WA in 2000.
He also treats extremity injuries and through this has participated as the chiropractor in many sporting event, including the Kirkland Triathlon and the Hood to Coast Marathon.
Additional Certification
Dr. Jeremy is certified in Chiropractic Biophysics (CBP). He has over 200 hours of post graduate training in structural spinal rehabilitation and correction. CBP is the most researched and published of all the techniques and he is always upgrading his standards of care based on new technology, research, and training.
Dr. Jeremy Meadows strives to bring a well rounded, holistic approach to his patient's lives. He has completed The Wellness Practice™, a postgraduate wellness certification program. He lectures on Spinal Correction, Mind & Body Emotional Health, Physical Fitness & Spinal Hygiene, and The Innate Diet & Natural Hygiene.
---
Dr. Leah Meadows, D.C. - Chief Energize Officer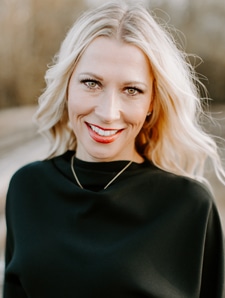 For years I suffered with terrible headaches. It wasn't until one of my friends suggested chiropractic, that I got any relief. I was oblivious to the benefits of chiropractic care.
A Life Changing Experience
I was at University, applying for Dental school and still suffering. My headaches interfered with my schoolwork and social life. One of my friends read about a chiropractor that could help with headaches and suggested I give it a try. Other doctors and pain medications didn't help, so off to the chiropractor I went.
After just one visit with a chiropractor, I felt like I was walking out on pillows. I felt relief. My headaches were gone completely in a couple of weeks and I noticed the back pain due to scoliosis since childhood was improving.
It was within the first two weeks of my visits that I decided to change my career from dentistry to chiropractic. It was very important to me that I get the word out there and let people suffering from headaches and back pain know about the benefits of chiropractic care.
A Chiropractic Education
I moved to Portland, Oregon to attend Western States Chiropractic College. WSCC has been a leader in evidence-based chiropractic care, and has long encouraged an integrated approach to health. This is where I met my husband and partner in practice, Dr. Jeremy Meadows.
I've completed many post-graduate adjusting technique courses including CBP, and Torque Release (an instrument assisted technique). This gives me the ability to tailor my adjustment style to the patients specific, needs. Currently I am in training through the International Chiropractic Pediatric Association for a Diplomate in Pediatrics and I am fully certified in the Webster Technique.
A Positive Experience with Chiropractic
At Energize Chiropractic and Wellness we have a great team working to cater to you. We'll make you feel comfortable and answer any questions you have. We want you to have a positive experience and forget about any past negative experiences you've had.
We'll do a full exam and help you understand what your condition is. We'll explain what we're going to do before we do anything. If we determine we can't help you, we won't accept your case. We try to help you find out who can help.
Chiropractic Is Rewarding
Our goal is to help you get back to your normal activities and experience life again.
With chiropractic care, you can do the activities you used to – even if you though you never would again. I've had patients that have come in for their visits in a wheelchair and with our excellent chiropractic care they now leave walking.
It's rewarding to see our patients get back to a healthy family life or get back to work without drugs or surgery.
Practicing What We Preach
When I'm not helping my patients with quality chiropractic care, I spend time with my husband and two young children, Maia and Lawson.
My husband and I preach a healthy lifestyle and focus on living a balanced life. We believe that health needs a holistic approach. Not only do I promote a holistic approach to healthcare to my patients, but I make a healthy diet, stress reduction, exercise and chiropractic care a part of my family's lifestyle as well.
Health is all encompassing; it's what we eat, how we take care of ourselves, how we exercise and it's also determined by the lifestyle choices we make. My husband and are raising our children the same way. We skate every week and live a healthy balanced life together as a family.
---
Ashley Keithley - Team Coordinator, Bookkeeper & Payroll Extraordinaire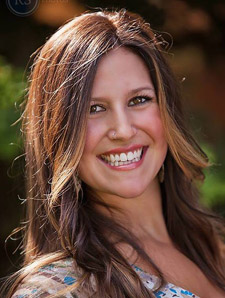 Ashley met the Meadows family back in 2012 at the local ice arena and has been their children's ice-skating coach for over 6 years. When she is not gliding around, she is busy at her desk as a bookkeeper and business consultant. As an avid proponent of wellness and an active lifestyle, it felt like the perfect fit to join the Energize Chiropractic and Wellness team as their new bookkeeper in the fall of 2018.
In Ashley's spare time you can find her at yoga, hunting, fishing, hiking, out for a run or biking.
---
Dr. Michelle Irwin, D.C. - Chiropractor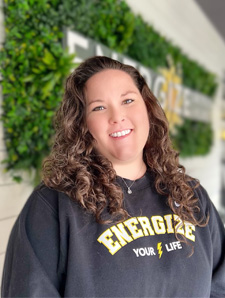 At the age of 11, as I was waiting on my mother's treatments I observed how another patient of the treating chiropractor was improving from coming in using a wheelchair and after adjustments and treatments he was able to walk out the door.
A Positive Direction
My experience with chiropractic touched home as my mom underwent chiropractic and I saw how she improved. During my mother's treatments, I observed a young man being treated for his degenerative Multiple Sclerosis. He began care in a wheelchair and after several weeks of treatment he was able to walk short distances and do basic tasks himself. In high school I began working to see that my childhood dream became a reality.
Pursuing Educational Excellence
Dr. Michelle holds a degree from Oklahoma State University, with a Bachelor of Science degree in Physiology. She continued her education by becoming a licensed massage therapist working in tandem at a chiropractic clinic as a Chiropractic Assistant and Massage therapist. In 2008, she began her journey at Western States Chiropractic College in Portland, OR receiving her Doctor of Chiropractic Degree in 2011.
In Her Spare Time
Dr. Michelle truly enjoys the people she works with and seeing firsthand improvements that can be provided with the diversified techniques she performs. She loves working with patients of all ages but is especially connected to and passionate about helping children live their best, healthiest life.
---
Dr. Robert Segal, D.C. - Chiropractor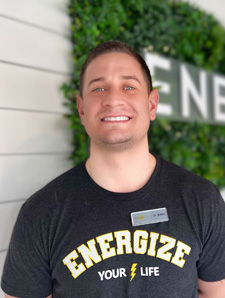 The Journey
Dr. Bobby Segal holds a degree from Seattle University, with a Bachelor of Arts in Sports and Exercise Science.  Raised by two parents both working in the health care profession, being in a position where he could help others achieve better health was always a major passion of his.  In 2018, he furthered his education by attending the University of Western States, in Portland, OR, where he obtained his Doctorate of Chiropractic.
On a Personal Note
Being a competitive athlete for most of his life, Bobby frequently suffered from a variety of musculoskeletal complaints, mainly involving his hips and low back.  Fortunately for him, one of his best friends' dad is a chiropractor.  Within the first few treatments, Dr. Bobby immediately realized that he couldn't perform at the level he desired due to the lack of mobility in his joints that he was experiencing.  Without his help, there was no way he could have been able to play soccer all the way through the division 1 collegiate level. Dr. Bobby's goal as a health care provider is to allow others to achieve optimal levels of health so that they can accomplish their dreams and goals, the same way that chiropractic did for him.
Outside the Office
In his spare time, you can find Dr. Bobby coaching youth soccer, taking care of his health at the gym, or watching a sporting event!
---
Dee M. - Operation Manager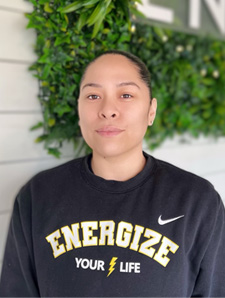 Dee was born and raised in Northern California. She moved to Seattle, WA in 2021 with her family. She first discovered chiropractic care as a child. She started competing in martial arts tournaments with her family at the age of 5, which was very strenuous on the body, so her mom took her to their local family chiropractor for check-ups and sports evaluation. In 2008, she moved to Newport Beach and had the honor of working with the leading chiropractors in California. She's a certified Personal Trainer and certified in CPR and First Aid. She has a passion for learning, martial arts, cycling, participating in triathlons, and fun yet challenging races. Her favorite was the Tour De Big Bear in the scorching heat! During Dee's free time, you can find her working out, kayaking, exploring the PNW, and spending quality time with her daughter, spouse, and a 12-year-old dog named Nova.
---
Zara A. - Patient Care Coordinator & Front Desk Manager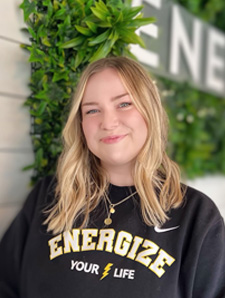 The backbone of Energize Chiropractic, our front desk operations are run smoothly with the help of New Patient Coordinator/Front Desk Manager, Kazarah. She has firsthand experience with the power of chiropractic care as it helped her experience pain relief and regain control of her left leg after experiencing an accident during a hike in Arizona. In the office, you can find her greeting everyone with a smile, listening to concerns, and answering any questions that come her way.
Moving to the Pacific Northwest all the way from Michigan, Kazarah enjoys leading an active lifestyle during her free time. Some of her favorite activities include hiking, weightlifting, trying new food, and getting all the puppy love she can.
---
Paris M. - Therapy Technician & Community Outreach Coordinator
Paris was born and raised in Seattle, WA. She studied in the Midwest then moved down to Newport Beach, CA where she first discovered the power of chiropractic care. She has been in the medical industry for over 10 years and has gotten certified in different holistic modalities such as energetic healing and has also become a full spectrum doula. Her first exposure to chiropractic care came in 2009. It changed her quality of life drastically after being in multiple car accidents as a passenger and experiencing 2 major head traumas. She went from 2-3 headaches per week to 0 after receiving adjustments. Chiropractic care plays a major role in Paris' lifestyle to achieve optimal health and wellness.
Her passion for health and wellness started once she became a mom in 2007 with a goal to raise her child with a more holistic lifestyle to help nourish her developing brain and growing body. In 2009, her passion increased after working with a chiropractic office in Newport Beach, CA, learning even more about the benefits of true health and wellness. During Paris' free time, you can find her spending quality time with her spouse, daughter, and dog going on fun adventures. Making handmade candles are also something she enjoys in addition to reading books and learning something new!
---
Ashlee Elve - Therapy Technician & X-RAY Technician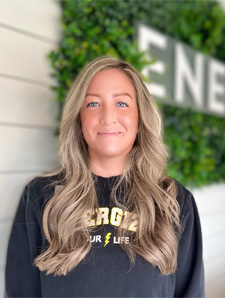 Ashlee was born and raised in the beautiful state of Alaska. She moved to the state of Washington in the late summer of 2022. So far, she has absolutely loved it here and can't wait to see what this state has to offer her. In her free time, you can most likely catch her outdoors doing any sort of physical activity whether that be hiking, biking, or sports, and always accompanied by a 4-legged companion, her golden retriever, Fynn. 
Ashlee comes from a very large family, being one of the oldest of 8 she has had the natural ability to take care of others from a young age. Ashlee was introduced to the health care industry in high school when she started working as a receptionist. During that period Ashlee realized she had more to offer. She completed courses gaining her medical assisting, Chiropractic assisting, X-Ray tech, and first aid which she still carries today. She started her journey as a Chiropractic assistant in 2014 and hasn't looked back. Since working in Chiropractic, Ashlee has suffered from motor vehicle accidents and sports injuries and has first-handedly experienced what Chiropractic has to offer as a natural, holistic, and noninvasive method of care. Thanks to Chiropractic care, Ashlee can live a non-restricted or limited life today, and not only that, but she is also able to share her experiences with others to help them heal and grow. She looks forward to meeting and helping heal the wonderful people of Washington.
---
Marina Chin - Licensed Massage Therapist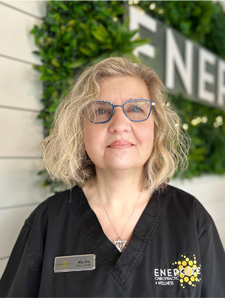 Marina is a 1997 graduate of Bellevue Massage School where she worked as a student clinic supervisor. Utilizing the instructors license she received in 2001, Marina transitioned into teaching at the Euro Institute in Renton, WA where she helped develop body treatments and Swedish massage styles for the Esthetician students. Throughout her career as a massage therapist, she has worked in several chiropractic clinics and medispa environments. In November of 2020, Marina celebrated seven years at Energize Chiropractic and Wellness as a valued team member. Certified with both Premera and L&I, she has been providing a variety of styles of treatments and massages including Swedish, Remedial, Relaxation, Reflexology, Scalp and Neck treatment, Skin Rolling, combination Deep Tissue and Trigger Point technique, and Pre and PostNatal massages.
Marina grew up in Finland on a small island in the Baltic called Aland and is fluent in the Swedish language. She later moved to the United States in 1989 where she resided in California until coming to Washington in 1997. Outside of massaging, Marina enjoys decorating, painting, gardening, going to church, and spending quality time with her husband as his primary caretaker. As a former leading instructor and current practitioner, she brings a wealth of knowledge and expertise to the patients at Energize, bringing a relaxing and positive energy to each patient and session.
(Massage License #MA00011808)
---
Ninette Olearain - Licensed Massage Therapist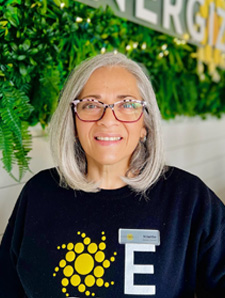 Ninette is a licensed therapeutic masseur that has been practicing massage since 2007. She is a kinesthetic individual with a passion to help people who are trying to get away and unwind from the stressors of everyday life. For her, it is not only about touching the body but also feeling and listening to the layers of the skin, muscles and soul which allows her to discover different techniques to help relieve pain. She prides herself on being attentive, gentle, and effective as a massage therapist and strives to provide the best care she can to each patient that visits her!
Ninette is a proud Mexican and mother of two children. In her leisure hours, she loves to cook, read a good book, listen to relaxing music, watch old-time movies, and spend time with her favorite people. She also makes it mission to stay healthy and regularly exercises to ensure a long and happy life.
---
Rachel Fry - Licensed Massage Therapist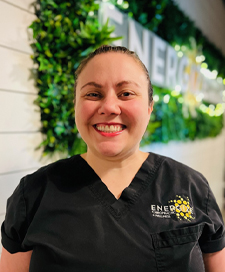 Rachel has held her massage license since 2014 and has practiced in both relaxation and treatment offices. She has a passion for helping people live lives less encumbered by muscle dysfunction by reducing their head, neck, back, and shoulder pain. She will work with you to develop a unique treatment combination of Swedish, deep tissue, unwinding, and stretching to achieve your best individualized results.
Rachel grew up in Edwardsville, Illinois and moved to the Seattle area with her husband in 2013 to enroll in Bastyr University's Naturopathic Doctorate program, from which she graduated in 2018. During the program she completed her massage training and licensure through Bastyr's partnership with Bellevue Massage School. When not at Energize she can most likely be found working on her house with her husband or enjoying their home theater system together. Her favorite genres of movies and TV shows are fantasy, sci-fi, action-adventure, and period pieces. Her all-time favorite movie is a tie between Hook and Ever After and one of her new favorite TV shows is Carnival Row.
(Massage License #MA60511096)
Monday
8:00am - 1:00pm
2:00pm - 6:30pm
---
Tuesday
9:00am - 6:30pm
---
Wednesday
8:00am - 1:00pm
2:00pm - 6:30pm
---
Thursday
8:00am - 1:00pm
2:00pm - 6:30pm
---
Friday
Closed
---
Saturday
Closed
Energize Chiropractic and Wellness
13325 100th Avenue NE Suite D
Kirkland, WA 98034
Phone: (425) 814-9644
Fax: (425) 814-7395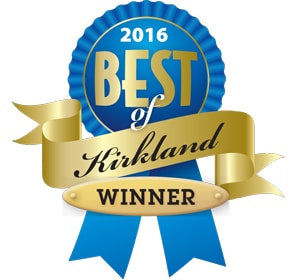 ---
2014 Best of Western Washington Award