Ladies Night! Women, Wine & Wellness In Kirkland WA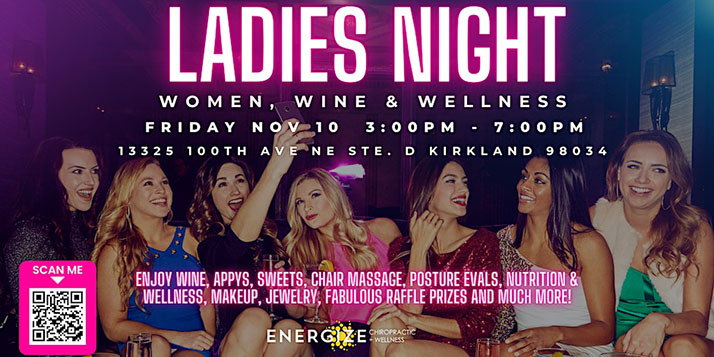 FREE EVENT
DATE: Friday, November 10th
TIME: 3:00pm - 7:00pm
LOCATION: Energize Chiropractic and Wellness
TICKETS: Text (425) 814-9644 or CLICK HERE for your FREE TICKETS!
---
About This Event In Kirkland WA
Ladies Night! Women, Wine and Wellness Free Event
Join us for a fabulous evening of fun, relaxation, and self-care at our Ladies Night! Women, Wine and Wellness Free Event. This in-person gathering is the perfect opportunity for women to come together, unwind, and indulge in some well-deserved pampering.
On Fri Nov 10, 2023, starting at 3:00pm to 7:00pm, we will be hosting this exciting event at 13325 100th Avenue Northeast #D, Kirkland, WA 98034. Prepare to be surrounded by a warm and welcoming atmosphere as you immerse yourself in an evening dedicated to your well-being.
Throughout the event, you'll have the chance to explore various wellness activities, including rejuvenating chair massages, shockwave therapy demos, foot scans for your fabulous back and feet, hand spa treatments, and insightful workshops on Women Health topics. Our health and wellness expert Dr. Leah and Energize Team will guide you through each experience, ensuring you leave feeling refreshed and inspired.
Indulge in a variety of delectable wines and delicious tacos, specially curated to tantalize your taste buds. Connect with other like-minded women, share stories, and make new friends in a supportive and empowering environment.
Don't miss out on this incredible opportunity to prioritize yourself and embrace the power of women's wellness. Mark your calendars, gather your girlfriends, and join us for a memorable Ladies Night! Women, Wine and Wellness Free Event. We can't wait to celebrate with you!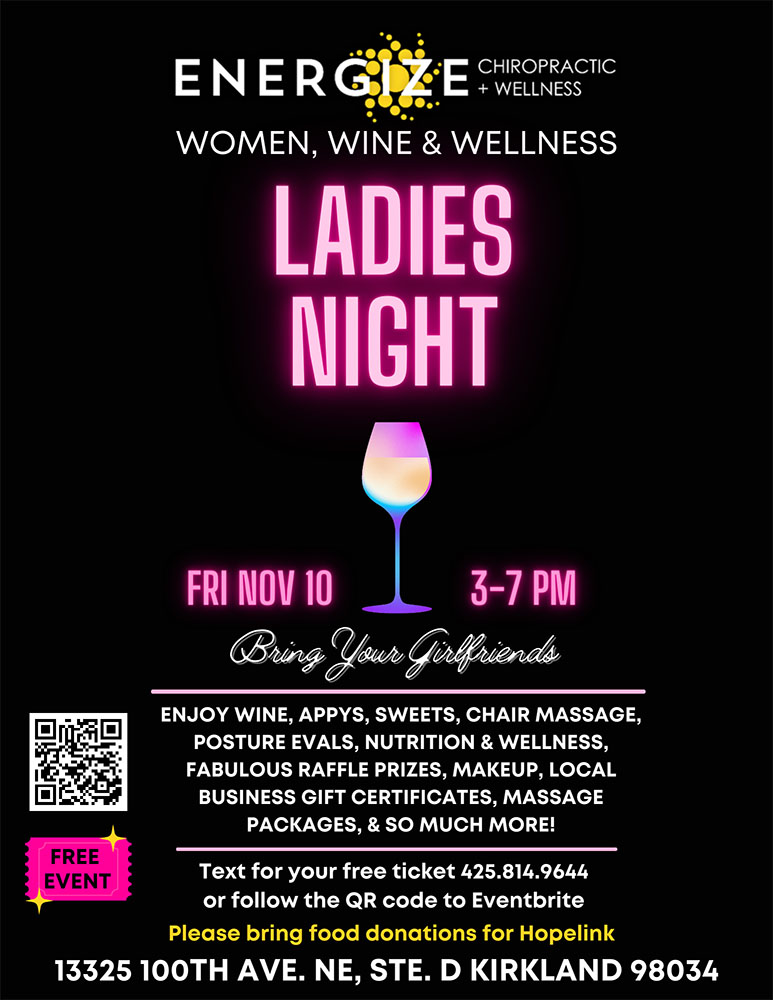 *Special Service Appointments

---
Monday
8:00am - 6:30pm
*12:00pm - 2:00pm | Massage Only

---
Tuesday
1:00pm - 6:00pm
---
Wednesday
8:00am - 6:30pm
*12:00pm - 2:00pm | Massage Only

---
Thursday
8:00am - 6:30pm
*12:00pm - 2:00pm | Massage Only

---
Friday
8:30am - 12:30pm
---
Saturday & Sunday
Closed
Energize Chiropractic and Wellness
13325 100th Avenue NE Suite D
Kirkland, WA 98034
Phone: (425) 814-9644
Fax: (425) 814-7395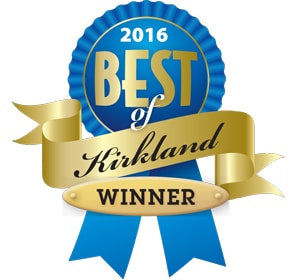 ---
2014 Best of Western Washington Award