Please fill out the form below, including all required fields, and we will contact you as soon as possible.
---
---
Directions
Driving directions from South
Drive down south on 405, take exit 22 (160th Street exit) and go right after the exit and continue on the Juanita-Woodinville Way NE. Keep going down the road and it would straight go into our parking lot. We share the same parking lot as Starbucks. We have three reserved parking spots in front of our doors.
Driving directions from North
When you are driving from north on 405, take exit 20B and take left off the exit to 124th St, turn right on 100th Avenue and drive straight through the right at 132nd St and keep going on Juanita-Woodinville Way NE to drive straight into our parking lot.
Monday
8:00am - 1:00pm
2:00pm - 6:30pm
---
Tuesday
9:00am - 6:30pm
---
Wednesday
8:00am - 1:00pm
2:00pm - 6:30pm
---
Thursday
8:00am - 1:00pm
2:00pm - 6:30pm
---
Friday
Closed
---
Saturday
Closed
Energize Chiropractic and Wellness
13325 100th Avenue NE Suite D
Kirkland, WA 98034
Phone: (425) 814-9644
Fax: (425) 814-7395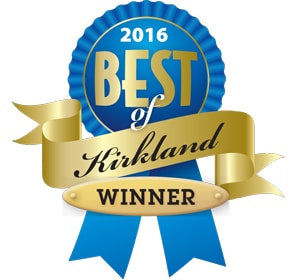 ---
2014 Best of Western Washington Award